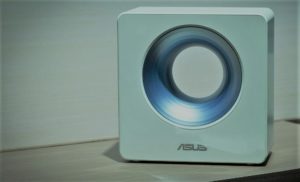 Usually Routers came up with all traditional design having two antenna's or one antenna. But asus changed the game by introducing router that has no antenna. ASUS is Taiwan biggest tech company and its spread all over the world. You probably heard of ASUS. They make laptops, tablets, desktops and also some gadgets.
Recently ASUS launched a WI-FI router called as 'blue cave'. Blue cave AC2600 Dual band smart WI-FI router have very fast connectivity and can also be used to stream 4k video. Blue cave have built in advance security for secure communication. Through this router you can connect more client devices then ordinary routers. More user under one router.
Security of this device is kept In mind and it is equipped with the Aiprotection. This security solution is provided by Trend Micro. This security includes Iot (internet of things) that protects against hacking. This is commercial grade security that means that they provide protection of all connected devices.
The best part of this router is that you are get rid of the the ordinary WiFi antenna. This unique design of router looks like a tiny gadget or speaker. There is a hole at center of the router just like a cave and light emits through this cave. That is the reason they named it as a blue concave. The dimensions of this device are 160 x 160 x 80 mm and it weight is 1.7 lbs. This is portable design and you can take it anywhere and plus it looks cool if you place it in house or office.
There is also an app for this device that will help you to control your device. You can monitor every connected person with this device. It also shows the usage of internet. This app can send you security reports and you can also restrict other apps through this app. Further more if someone tries to hack into your device or it is a new user then the app will send notification to the user.
Although there are no antennas apparently but there are four antennas hidden inside this router. These antenna are on top of the router. ASUS claim that this antenna can reach speed up to 1240 Mbps and it is faster then other AC2600 routers.
The price of asus unique looking router Blue Cave is expected to be around 180 $