Iman Hussain (R.A) made a huge sacrifice in Karbala. His sacrifice keeps islam alive. Imam Hussain was a great person. His life journey was amazing. He refused to bow down infront of evil (yazeed). He was the grand son of Hazarat Muhmamad (S.A.W). Imam Hussain was very close to Hazarat Muhammad (S.A.W).
When Yazeed came into power he want Imam Hussain to bow in-front of him. But Imam Hussain refused to bow in-front of Yazeed and took a decision that he will fight with him. There were total 72 people with Imam Hussain and mostly were women and childern. While on Yazeed side there was a huge army and weapons. All seventy two people got sahadat.
Imam Hussain Quotes 
If you neither believe in religious nor fear the hereafter then atleast be free from tyranny and arrogance. –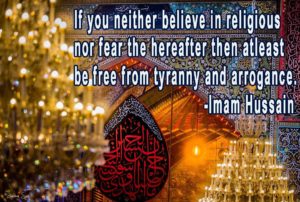 2
A person would not forget two types of faces in his life, the one who helped him in time of need and the one who left him alone in difficult times. -Imam Hussain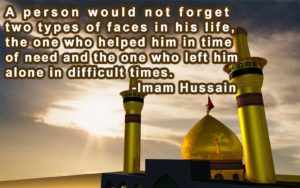 3.
Those who are silent when others are oppressed are guilty of oppression themselves. -Imam Hussain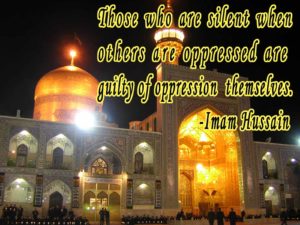 4.
The most generous of people, is the one who gives to those from whom he has no hope of return.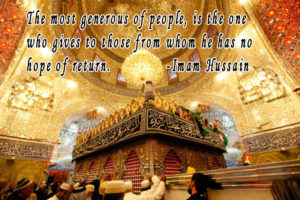 5.
I learned bravery from a man who saw thousands arrows flying towards him and he still stood with the truth. -Imam Hussain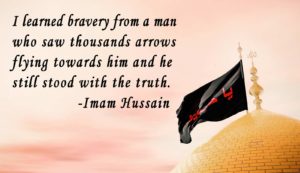 6.
Death with dignity is better than a life of humiliation.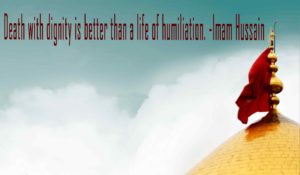 7.
Remember me when the truth becomes alone, alone and sad.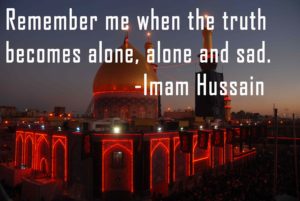 8.
When a poor man begs for your help, his pride in hurt. Then you don't deal another blow to his pride by letting him down. -Imam Hussain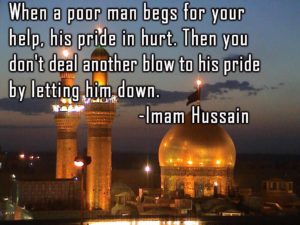 9.
Whoever does good deeds for the sake of the Hereafter, Allah will amend for him his affairs in this world.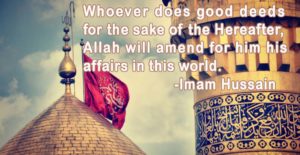 10.
The most merciful person is the one who forgives when he is able to revenge. –