It is only october but Kardashians are getting ready for the Christmas. Both arrived in a black car. Kourtney and Kim Kardashian were seen for the filming for up coming program "keeping up with the kardashians" it is a special program for the christmas. And was shooted at the christmas tree farm in LA.
Kim and Kourtney was surrounded by their camera crew, both were seeing chating with each other.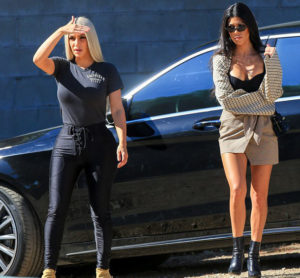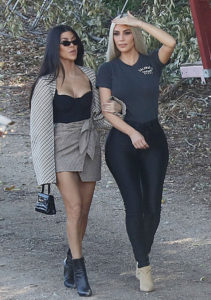 Kim kardashian was seen in the hugging black pants, which shows her famous curves. And she was wearing charcoal grey t-shirt which was looking amazing on her.
Kourtney Kardashian
Kourtney was wearing brown tarten miniskirt with a tie at front. Kourtney was also wearing the fitted black bodice tucked in, and was wearing a nude tartan cape over her shoulders. Se was wearing cat-eye sunglasses, and carried a small black alligator skin handbag. Kourtney was wearing black ankle boots and kept herlong hair loose.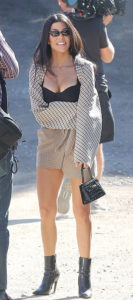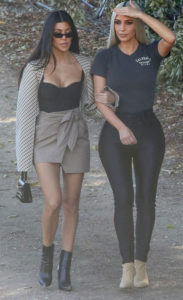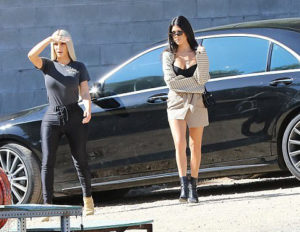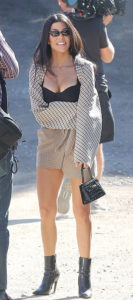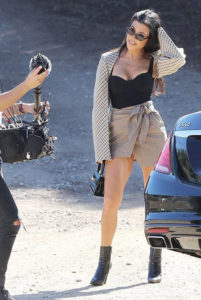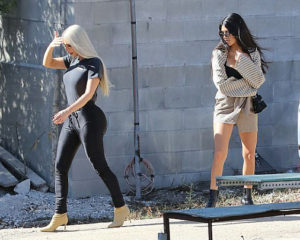 She joined it with white trim up shoes and a white baseball top.
Her mobile phone was in a single hand as she strolled the seven-year-old kid to his class.
The Kardashians have been keeping busy with recording the up and coming Christmas special and shot ice skating scenes just yesterday.