This nine year old girl living in Pakistan is suffering from muscular disorder. The girl lives in Mithi in Pakistan Sindh province.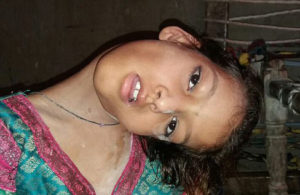 Her name is Afsheen Qumber and She is suffering from muscular disorder which means that she cannot lift her head upright. Her head keeps hanging at a 180 degree. Afsheen can not walk or stand properly. She is restricted to only sitting position.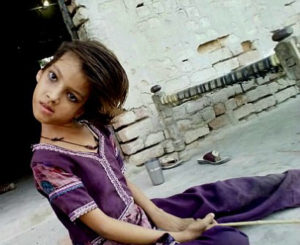 She was born normal like other siblings but soon as she reached eight month old she fell on ground while playing and got her neck hurt. After that she never able to uplift her head.
But the sad part is people are afraid from her. Adults and childern are afraid from her. They think that this condition is because of sins. She does not go to school. The only friend she had are her six siblings.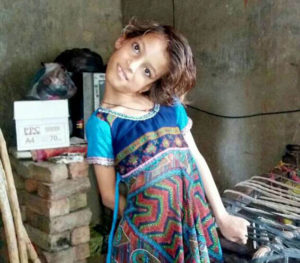 Afsheen father Jurio 55 year old and his wife Jameelan 50 year old said that they consulted several doctors but have all doctors said they can not provide possible treatment for her. Also they lack financial support as their all rely on their eldest son.
Her mother said she can not see her daughter like this and soon she want help from other. Doctors said the possible treatment can be provided by doctors of Jinnah Post Graduate Medical Centre In Karachi. But they lack money so they can not take her to that hospital.