Sylvester Stallone an action legend with his three beautiful daughters. This 71 year old star still looks handsome and no doubt he is still considered as action hero.  Sylvester Stallone was found with his three daughter in Saturday Night in LA. Stallone enjoyed the evening with his girls sophia who is 21 year old Sistine 19 year old and scarlet 15 year old.
Stallone posted picture of his with his three daughters. He posted pictures on his official instagram account. Hi posted picture with a caption " At an event last night with my wonderful daughters, Always a plesure to spend time with them.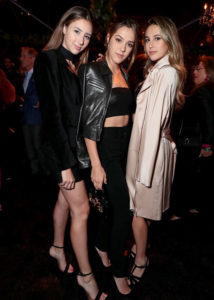 Sylvester Stallone wife Jennifer Flavin also appeared. She was wearing form-fitting black top and colorful silk maxi. Ins't one beautiful family?