Incident happened in Russia where a tiger attacked zookeeper.
The tiger attacked at the zookeeper when she brought food for the animal. The Siberian tiger named as Typhoon jumped on the zookeeper at kaliningrad Zoo.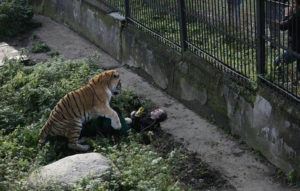 Typhoon attacked at the lady when the cage was accidentally left open. The visitors saved her life after they saw a tiger was attacking her. The visitors throw stones at tiger and shouted for help.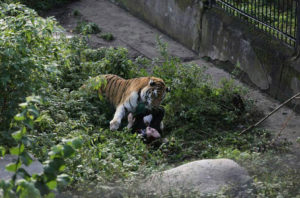 Women name is unknown and she was living is Kaliningrad. After the attack she was covered with blood there are some chances that she will survive.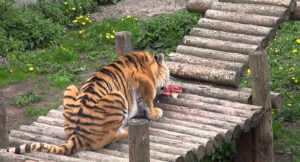 Other zoo  employees were not present when  tiger attacked. But visitors played a major role to alarm the situation. Visitors also distracted the Tiger. They also called for an ambulance.
Witness named as Vera, said that the victim women was badly injured and was rushing in the cage for help.
Another witness said
'My daughter and I went to the zoo and immediately to the cage where the tiger lives, but the sight was terrible.
'There were shouts, everyone tried to chase away the tiger. When we got there, the woman was already bitten, (and) all covered in blood.
'The tiger didn't move away. It was biting, even a feeling that it gnawed like meat. People threw stones at him, all they could.'
Soon when doctors arrived The girl was in basement in front of the enclosure. Doctors went down there and after five minutes she was carried out in the blanket.
Zoo administration said that this was first time in the history and investigation is launched.
They said that tiger was stressed and after the attack will not be destroyed despite tasting human blood.