A girl was admitted to hospital. She had an extremely rare condition in which blood sweat from her face and from palms of her hands.
When she arrived at the hospital the Italian doctors got shocked after watching this rare condition of that girl. The girl is nearly 21 year old.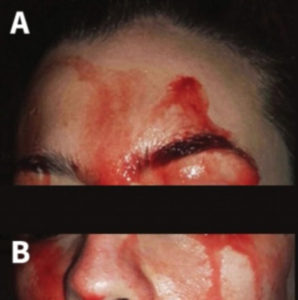 Doctors said that there is no sign of skin lesions and this case is very strange. Furthermore doctors said that there is no sign that trigger for the spontaneous bleeding, which could happen while she slept or carried physical activity. After performing tests the report said tat the blood count and blood-clotting functions is normal.
However Canadian Medical Association Journal (CMAJ)  said that bleeding becomes more intense when she is depressed.
Doctors in Florence said that the patient suffered from attack and last for one to five minutes and this unusual behaviour is happening from last few years.
Due to her rare condition she left alone and became more depressed. She was treated with her propranolol a medicine that reduce the symptoms but this medicine can not completely cure her.
This disease is so rare that doctors are still confused that they don't know this exits or if it is real.
This is actually second case of this type of disease.  1st case was seen in the Thailand where a seven year old girl was also suffering from same disease.